The Story About TYG
---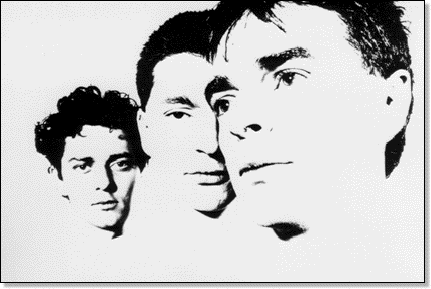 Franz picks up the story : "I used to like The Stooges' `Funhouse' kind of guitar sound, so I was trying to get bits of intros here and there and recreate the riff on my own but with the same sound, because sound is something you cannot really control. Even then they couldn't get it twice. It was another studio, another atmosphere, a magical state or not, and I was trying to put different moments like that together, wherever they were from - putting Jimi Hendrix on top of Mozart, that kind of fun idea. I wanted to place myself at the space where they connect."


Meanwhile, Franz's childhood friend, Cezare Pizzi, moved to Geneva from their hometown of Fribourg, and ended up sharing a flat. Drummer Frank Bagnoud was found, and the rest was... the future, quite frankly.


The Young Gods eponymous debut Lp, released in 1987, seemed to come out of nowhere, unleashing an energy that made immediate sense of the moment, even as it left you for lost, an unprecipated rush. Classical sample fused with Heavy Metal, all mined for a disproportionate amount of power, in a volatile panorama of sound. So many possibilities were bursting forth that it was unable to conduct itself in a proper manner. Yet in Treichler's sky-razoring howl, they found the perfect embodiment. This really was the sound of the future, in its very first throes. Melody Maker made it album of the year.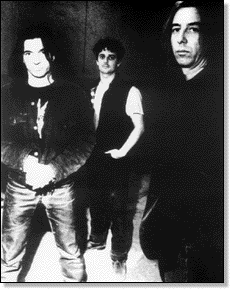 Bagnoud was replaced by Use for the next LP, L'Eau Rouge, which now seemed to command its own eco-system, a Fantasia for global hedonists with its dramas of invocation and surrender. "L'Eau Rouge" not only expanded their vision, it led the way to further developments. The theatricality of tracks like "Charlotte" recycled themselves into their later tribute to Kurt Weill (the last time they were to use classical samples), and in their gorgeous cover of "September Song", they discovered an ambience that was to impregnate itself into their sound from now on.

Cezare left the band in between "L'Eau Rouge" and "Kurt Weill' to be replaced by their sound engineer Al Comet, and by the time of TV Sky, The Young Gods response to the misuse of their elemental imagery by American TV, the sound was now more stripped down, more recognisably rock. It was helped along by the fact that Franz was singing in English, rather than his customary French. But while much of "TV Sky" turned Metal's tight-assed postures into an ecstatic convulsion, "She Rains" and "Summer Eyes" stood out - the first a suspended wash cut loose from a rhythm, the second an epic, 20-minute travelogue that was in part a homage to The Doors. The Young Gods had learned the art of space, to draw their sound out, to prolong the moment of anticipation.

And now there's "Only Heaven", still coursing with a velocity that's very much The Young Gods' own, but with its sights expanded yet more, as though a point of tension has finally been breached. The title of the opening track says it all, "Outside".

"Only Heaven" is very much a follow-on from "TV Sky" says Franz, But it's also a return to the experimentalism of the first LP. It was partly influenced by the Ambient scene, with many layers of sound, but the main idea was a bit like "TV Sky". "TV Sky" had a metal plane on the cover, and this one is like after the TV Sky, when you take off and pass the clouds. This one is after the clouds.

Awash with dream imagery, with a hunger for an all-embracing communion, "Only Heaven" ends with the melancholic fable, "Child In A Tree", based on the true story of a man who died from an overdose in a tree whilst hiding from Zurich's police.

Franz : "In a way this song is to wish him a good trip, and to try to make something positive out of this myself. That's the only thing that was inspired by something different, but I tried to integrate it in a dreamy way. I just want to show my way to react to it, and to show it in a poetic way ; this is not a political album but to sing or scream for me is like a political act in itself, to take a feeling like this and to uplift, and surf on the sensation up there".

"We always wanted to leave a question mark, musically, lyrically or in the attitude. I think basically that is what rock music is about, questioning things more than accepting and closing your eyes."

The Young Gods are still wide open, still one of the most affirmative band in the world, still belonging utterly. Outside! Now!

By Jonathan Selzer

---