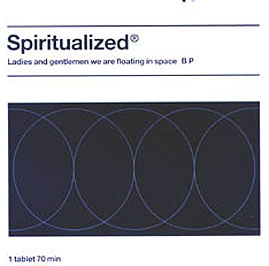 LADIES AND GENTLEMEN WE ARE FLOATING IN SPACE
DEDCD 034 DEDMC 034
LADIES AND GENTLEMEN WE ARE FLOATING IN SPACE/ COME TOGETHER/ I THINK I'M IN LOVE/ ALL OF MY THOUGHTS/ STAY WITH ME/ ELECTRICITY/ HOME OF THE BRAVE/ THE INDIVIDUAL/ BROKEN HEART/ NO GOD ONLY RELIGION/ COOL WAVES/ COP SHOOT COP...
---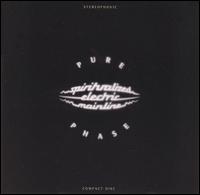 PURE PHASE
DEDCD 017 DEDLP 017 DEDMC 017
MEDICATION/THE SLIDE SONG/ELECTRIC PHASE/ALL OF MY TEARS/THESE BLUES/LET IT FLOW/TAKE GOOD CARE OF IT/BORN NEVER ASKED/ELECTRIC MAINLINE/LAY BACK IN THE SUN/GOOD TIMES/PURE PHASE/SPREAD YOUR WINGS/FEEL LIKE GOIN' HOME
---
take this as read then, add jason's strong compostional ability which on "ladies and gentlemen..." has reached a new peak. many of the new songs use the massed voices of the london community gospel choir, 70's elvis stye memphis horn arrangements, and a string quartet, once again calling on the services of the balanescu quartet. the epitome of this unlikely marriage of styles can be heard on the truly remarkable "think i'm in love".
spiritualized's ensemble playing throughout this lp is as accomplished as that of the outside musicians. the rhythm section stretches itself way beyond the confounds of conventional rock, drummer damon reece is equally as comfortable whether power driving or effecting delicate complex jazz patterns while sean cook's bass lines are deployed at times, virtually as a lead instrument. sean also plays harmonica throughout, extensively and ambitiously used, whether creating the subtle moods of "cool waves" or more typically on the fearsome wailing "all of my thoughts".
the whole band plays to thier full potential throughout. kate radley's keyboard stylings are so highly diverse and multi-textured, underpinning the songs while punctuating the sound with effects and a soulful psychedelic edge . jason's guitar playing, let's not overlook that, has also rarely sounded better or more bravely inventive and controlled, once again highlighting the range depth and dynamics of "ladies & gentlemen...."
take the final track "cop shoot cop", a delirious voodooesque epic, where spiritualized teamed up with new orleans piano maestro dr. john. a sixteen minute trip "cop shoot cop" veers part way through into territory normally associated with the likes of sun ra or last exit . it becomes a bitches brew of full blown, free form jazz, that's earthed by more familiar rock.
jason once summed up "pure phase" as soul music without using otis redding's dictionary of soul". ironically on "ladies & gentlemen....." there are song structures where you half expect to hear otis or aretha franklin instead of which jason's cracked, haunting voice comes in, pitted against a swell of sound. the result is extraordinarily emotional - sometimes sad and melancholy, at other times ridiculously elating.
it's genuine soul music. a track like "broken heart" is so true to it's title. so achingly beautiful as to almost define sadness and loss. lyrically it resembles a classic weeping country song but with an arrangement by way of jimmy webb and jack nitzche. "electricity" only the title is borrowed from captain beefheart, represents the other end of the scale, a furious blast of uplifting r&b.
the sheer audacity of some of this record is such that it really shouldn't work. rules were always made to be broken - droning electronics, western harmonicas, seething guitar, aaron copeland strings and memphis horns are not supposed to nestle together on a track. quite remarkably they do. and remarkable it is, right from the opening track which creates an electronic / orchestral loop of sound out of the elvis chestnut "can't help falling in love" that literally sounds like it's coming from outer space.
"ladies and gemtlemen we are floating in space " is spiritualized come of age. moving and poignant, startling and ambitious, music that is composed in a classical sense, music that takes avant garde ideas but that is timeless, gorgeous pop in that beatles / beach boys tradition. that said it sounds like neither of them and is far from superficial.
total pop for now people
out there. floating in space.
taken from spiritualized homepage at www.dedicated.co.uk