"I hate singer-songwriters," says Seattle singer-songwriter Gus. "Even though I tote an acoustic guitar, I'm not one of THEM."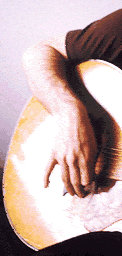 Gus puts his money where his mouth is with Gus, his debut album on Almo Sounds. Even on the cut "Dog," a leisurely acoustic-guitar-and-voice-only outing, there's no mistaking him for the "standard songwriter guy" he loathes. Gus remarks on the lean instrumentation: "It's already in your face enough."
Gus, produced by Eric Rosse (Tori Amos) and recorded primarily at Rosse's home studio in Taos, N.M., manages to accommodate both Gus' folkier instincts -- Cat Stevens was an early influence, as evidenced on the rollicking "Happy" -- and his metal roots (he insists that until the age of 16, he could have been that lame rock guy).
His songs of "experience and observation" welcome a variety of interpretations, but two themes seem to dominate Gus: the impending demise of a long-term relationship and the lingering emotional fallout of a difficult family dynamic. Of the former Gus cautions: "This isn't a breakup record; I hope to God I'm more than my relationship with that one woman." Of the latter, he will only elude to parental figures who instruct, "You should just love your brothers and sisters. You should be happy, you should be thankful, it wasn't bad, you never starved, we got you a car, blah blah blah." He declines to spell out why such reminders are necessary.
The unifying element of the disparate feelings and sounds is most assuredly Gus' voice, so listeners might be surprised to learn that a childhood incident nearly prevented Gus from finding it.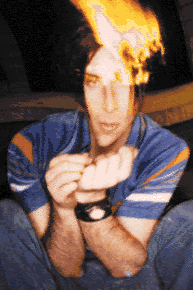 "I always loved music and when I was in fourth grade I sang in the choir," he recalls. "There were these sixth-graders in the choir with us. We had this performance at the mall and one of the fourth-graders bootlegged the gig. The following week at practice he played the tape for everyone and said, 'There's Gus singing really poorly.' The sixth grade guys I looked up to and the girls I thought were so beautiful, they all laughed. It was awful."
This humiliation curtailed Gus' singing career for a decade or so, but it did not overwhelm his desire to reach an audience, which had come to the fore even earlier. He reveals: "I always felt I had something to say, even when I was five years old lecturing my fellow kindergarten students on the proper way to execute calisthenics. And then there was my tendency to read the school rules out loud. That sort of thing made me want to write and perform. And it was something I thought I was good at and enjoyed doing."
Growing up in Pasadena, Calif., Gus was schooled in Top 40 radio. "My mom would listen to the radio while she cleaned the house," he reports, "and I was just there taking in all this great pop music." He started playing guitar at 11, buying his instrument from a guy across the street for five bucks.
Later he fell sway to hometown heroes Van Halen. He says: "I was totally into the first Ozzy Osbourne record, and Iron Maiden [Quiet Riot's Carlos Cavazo was his electric guitar teacher]. I played guitar in rock bands from the time I was 14. When I was 15, I even played at [departed Sunset Strip metal haven] Gazzarri's. But as soon as bands like Ratt and MÜtley Crče became popular, I abandoned metal."
It wasn't until graduating from high school, though, that Gus became serious about music. "I'd dabbled in songwriting on a pretty basic level, but I didn't really seriously try it until I got into this band where I started singing. And then I had to write."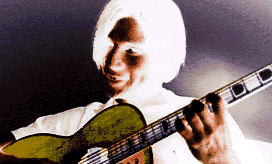 Gus played and sang with his post-high school band from 1986 to 1991, then moved to Aspen, Colo., where he pursued a solo career. But by late 1993 he was back in the L.A. area, living on a houseboat at Marina Del Rey. That's when he met Eric Rosse. Rosse was moved by the songs Gus was writing and offered to produce some demos. Their rapport was immediate. "Eric rules," Gus attests. "He and I were introduced by a mutual friend and the chemistry was awesome. He's been like a big brother to me. He let me do whatever the frig I wanted to, always encouraged me. I have more respect for him than just about anybody."
Recording sessions for Gus began in September '94 and continued sporadically through December '95 (as was dictated by Rosse's schedule; during some of this period, Gus was living in Aspen again, playing out five nights a week, three sets a night). Gus played virtually all the guitars on the record and most of the bass. Rosse brought in Seattle drummer Matt Chamberlain, who's played with Pearl Jam and Edie Brickell. Gus proceeded to let the songs tell him what to do. "I feel kind of ridiculous saying it, but it's the truth -- every song sends you the options."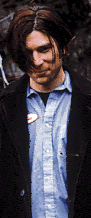 According to Gus, the sessions at Eric's Taos studio, where the two had recorded demos, were comfortable and casual. Asked about any pitfalls along the way, he says, "I became extremely allergic to some of the wild shit that grows around there and couldn't sing for two weeks." Almost as an afterthought, he adds, "And I broke up with my girlfriend of six years; it was pretty traumatic. It definitely comes through on the record."
But what also comes through is a spontaneity attributable to Gus and Rosse's penchant for experimentation. "We were never thinking through a performance," Gus affirms. "We put thought into preparing for what we were about to do, but once we'd start, the performance was all about the moment, the happy accidents. I guess a lot of people will say there's mystery in writing a song, but for me, the recording part is just about getting lucky and having fun and sticking with it when you think you've got something good. But I suppose there's mystery in luck too."
Three songs from Gus were recorded at Studio Litho, Pearl Jam guitarist Stone Gossard's studio in Seattle; Gus had relocated to Seattle in late 1995. He says of the move, "I just needed to go someplace new." The move has proved a good one for him. So good, in fact, that he was offered a slot opening for Oasis there.
"I found out the gig was at Mercer Arena, which seats 6,000 people. So I asked these guys I'd been hanging out with, [guitarist] Christopher Thorn and [bassist] Brad Smith from Blind Melon, if they wanted to do the gig with me. And then Matt Chamberlain said he'd play drums. It went amazingly well; the kids were so kind."
And though he will be playing with a band on an ongoing basis, Gus isn't likely to abandon his solo acoustic performances. "I love playing alone because it makes you work on a whole different dynamic level," he says. "I like playing in places where people comprehend the notion of sitting and listening." Lest we lump him with the singing, songwriting throng, however, he hastens to point out: "I play my acoustic live, but you wouldn't know it's an acoustic sometimes because I kick on a bunch of cool effects boxes; I try to get this insane distortion and feedback."