Depeche Mode
The Story
---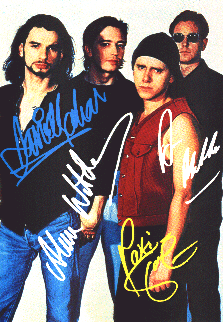 Sweetest Perfection ( the story of Depeche Mode)
The year was 1976, in the unlikely setting of Basildon in London. Vince Clarke and Andrew Fletcher aged 16 and 14 formed a band called "No Romance In China" about the same time the 14 year old Martin Gore was a guitarist for "Norman And The Worms".
By the summer of 1979, Gore and Clarke had formed "French Look", they began using an instrument which would make their name, An Analogue Synthesiser, Fletcher joined them and they became "Composition Of Sound".
They began creating an unique sound and soon ditched their gituars and became a synth pop band. Their music was totally electronic and based upon their love of harmony.
It was about this time that Gary Numan and his work showed the way for this new type of music.
However Clarke didn't like his role of vocalist and front man so in 1980 singer Dave Gahan joined them to become Depeche Mode. A French term which means Fast Fashion. They pioneered the "one finger style" of analogue synthesiser.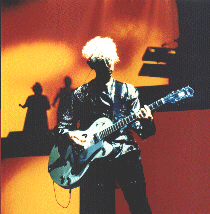 " Dreaming Of Me " was their first single and it went to the top of the independant charts in Febuary 1981.
The group debut album " Speek And Spell " broke the UK top ten. Their second single the classic " New Life " reached 11 in the singles charts.
Depeche Mode got a foothold in the US when the dance hit " Just Can't Get Enough " got played on american alternative radio stations.
Vince Clarke left after the first album to form "Yazoo" with Alsion Moyet, Gore the musical wizard became the lyric writer. In 1982 their 2nd album "A Broken Frame " was another hit. The single "See You" got to 6 in the British charts.
In 1983 the Modes 3rd album " Construction Time Again " came out. Already the music was changing, becoming deeper, moving away from the simple bright synth-pop of their early records.
This change gave them more hit singles such as " Everything Counts " an attack on the shallow greedy atitude of business in Thatchers Britain, this reached 6 in the UK charts.
Also in early 1983 they released a breathtaking single from new member Wider "Get The Balance Right ".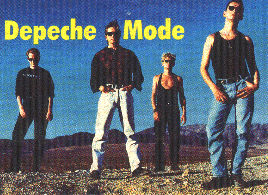 They had found a unique sound for themselves. In 1984 they released their excellent 4th L.P. "Some Great Reward". For me it marks a turning point in their career.
They also released the contraversial single "Blasphemous Rumours" this haunting song was a reachion by Gore to the death of his sister. The anger in it was misinterpreted by many and it narrowly escaped being banned from Radio 1.
This single was a double A side the other track "Somebody" in which Gore himself sing in regared as "one of the most beautiful ballads of modern rock". About this time the Mode cracked the vital american market and won over millions of fans.
Depeche Mode released "Singles 81-85" in 1985 this had all their singles on their 4 albums including 2 new tracks the wonderful "Shake The Disease" and "Its Called A Heart" ( around this time the great Vince Clark formed the excellent "Erasure" with Andrew Bell).
In 1986 the mode released the astonishing LP "Black Celebration" with this album they truely came of age. The tone was dark, Gore began to delve into what he discribed as "my favourite themes" The LP explored themes of sex, religion, lust, fame...
The first single "Stripped" is along with Dave's favourite song in 93 "Condemnation".
Everything about the album was superb, the singing, the songwriting and the music. One of the intresting features of the album ( And one that Depeche Mode have used since ) is the way in which tracks blend seamlessly into each other.
"A Question Of Lust" in which Gore sings memesrises the listener with his angelic voice.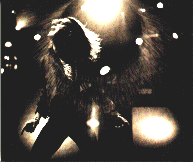 "A Question Of Time" is a fast moody yet dancey piece about a desire to protect a young girl from other men yet he himself is trapped by his own disires towards her.
In 1987 "Music For The Masses", by now their brand of electronic synth music had achieved a majestic yet emotional precise quality showen in the huge hit singles "Strangelove" "Never Let Me Down Again" and "Behind The Wheel".
Their last stop was in the Rose Bowl Stadium in California, here their live double album "101" was recorded ( Its named because it was the 101st concert of their tour ), the concert was attended by 80,000 people.
By 1990 the world began to anticipate a new Depeche Mode album. In 1990 the "Violator" LP was released. It sold over 6 million copies worldwide. The classic "Personal Jesus" was the first single to be released.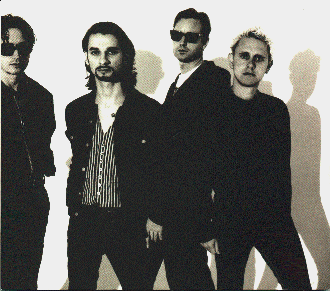 "Enjoy The Silence" had the best music video I have ever seen. In the video Dave Gahan dressed up as an ancient King and wanders along a variety of wild landscapes and then sits down on a deckchair which he has been carring and enjoys the silence.
In 1992 they released a haunting Jazz track which appeared on the soundtrack of the arty German film "Until The End Of The World".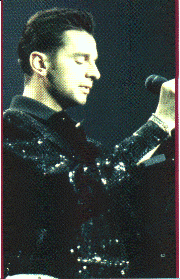 In 1993 they released their most recent LP "Songs Of Faith And Devotion", I think this is one of their best works to date. Dave Gahan had grown a beard and long hair and continued with his bad-boy antics.
Dave had introduced the group to a new form of music and for this album they used electric gituars as well as synthesisers which gave them a harder edged yet still sensitive techno-rock sound.
The album had some classic songs, the uplifting "I Feel You", "Walking In My Shoes", "Condemnation" ( Daves favourite song ) and "In Your Room".
In 1994 they went on the massive "Devotion" tour, this yeilded the excellent live album "Songs Of Faith And Devotion" which shows the terrific atmosphere of their devotional concerts.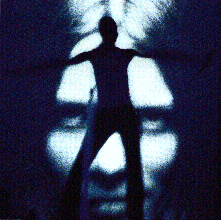 In 1995 Depeche Mode went through a rough time. Dave undergoing difficulties with his wife had a problem with a Heroin Addiction, when his wife left him he attempted sucide, fortunately he survived.
Around this time Alan Whider Left the band because of "creative differences". However Martin, Andy and Dave decided to carry on as a threesome.
1996 has seen Dave on a drug charge, hopefully things will go well for him and he will get off fairly lightly as is probably going to happen.
At the minute the 3 lads from Basildon are working on their 10th studio album. If Dave can combat his heroin addiction the future looks bright, the new album will probably be released in 1997 or 1998 at the latest.
Depeche mode have a unique place in the music of the last 16 years, their influence has been exensive musicly they have influenced a generation of electronic bands. In the rock world their influence is extensive.
Their work has shapped many genres of music from the synth - pop of "Can't Get Enough" (1981) to the industrial dance music of "People Are People" (1984) and the mix of rock and electronic sounds of "Moonlight Sonata" (1987) and orchestral numbers ...
And on a personal level there are only a few bands which can tap personal feelings and turn them into music like Depeche Mode have done.
LEONARD JOHNSTON
© Andi Kane 1996