GUS GUS - "Believe"
---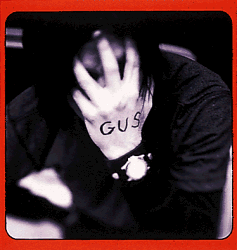 Gus Gus are set to release their second single, 'Believe', on February 10th. 'Believe' follows the acclaim for the last single 'Polyesterday', which was released in October.
The single will be available on three formats: two CDSs and 12". All formats will feature exclusive tracks. CDS2 includes superb remixes of the title track by LFO (Warp techno pioneers) and 16B (Omid Nourizadeh, who recently remixed Andrew Weatherall's Two Lone Swordsmen, and released the deep house classic 'Secrets' in 1996). All other remixes were executed by members of the group: the 'Biggomix' and 'Premix' were performed by Biggi Thorarinsson; the 'Pagus' and 'Ghetto Belief' versions by Herr legowitz. the 'premix' is actually the original version of the track, recorded two years ago!
The vocals on the track are performed by Daniel Agust, who also sang on the last single - contrary to some reviews you may have read, that was a man singing on 'Polyesterday'!
Gus Gus are a nine-piece Iceland ic collective, encompassing musicians, vocalists, DJs, filmmakers, programers, photographers and actors. A video has beeb made by Gus Gus to accompany 'Believe' which will be premiered in the New Year. Two multimedia live events will take place around the same time, one in Reykjavik and one in Lodon.

---
The tracklisting for the various formats is as follows:
CDS1

1. Believe
2. Oh
3. Cold Breath '79 (Craze)
4. Ghetto Belief


CDS2


1. Believe (16B remix)
2. Believe (LFO remix)
3. Believe (LP Version)
4. Believe (Biggomix)
5. Believe (Premix)


12"


A1. Believe (LFO Remix)
A2. Pagus (Believe)
AA1. Believe
AA2. Ghetto Belief